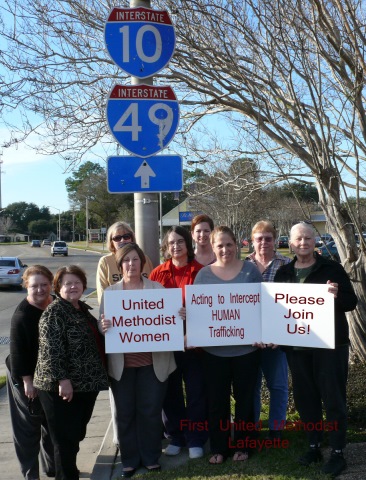 The Louisiana Conference United Methodist Women
to sponsor 2018 Social Action Event
Linda Resendez, Louisiana Conference United Methodist Women Mission Coordinator for Social Action, along with the members of the Social Action committee, will plan and lead the 2018 Social Action Event. Resendez attended 2017 Leadership Development Days held in Charlotte, North Carolina, where she participated in the workshops, caucus groups, experienced worship and praise, and attended sessions on the national UMW social action priorities led by a variety of guest speakers. For 150 years United Methodist Women have served as a mission movement within the church, providing opportunities and resources to grow spiritually and become deeply rooted in Christ, turning faith, hope and love into action on behalf of women, children and youth around the world. The 2018 Social Action Event will be developed to promote one or more of the UMW the 2016–2020 priorities:
Criminalization of communities of color, with a focus on disrupting the school-to-prison
pipeline.
Maternal and child health with, a focus on ending maternal mortality in the United States
and around the world.
Climate justice, with a focus on United Methodist Women members' personal and collective
choices through the 13 Steps of Sustainability and holding corporations accountable for
polluting and greenhouse gas emissions.
Challenging economic inequality, with a focus on securing living wages for all.

An added benefit will be to connect with different areas of United Methodist Women's work in advocacy, the reading program, program book, national website, international ministries, and leadership development.

Tools and Text:
• The Bible
• Social Principles (The Book of Discipline of the United Methodist Church, 2016) and
• The Book of Resolutions of The United Methodist Church, 2016.
Others mission resources to be noted.

Who should attend:
Local UMW unit members and friends, members of CWU, church leaders, Local and District leaders who serve as:
• Education and interpretation coordinators
• Communication coordination
• Social Action coordination
• Vice Presidents / Program Planning coordination
• Local and District Treasurers
and everyone who is interested in advocating for and improving the lives of women, children and youth around the world are welcome to attend.